I am so happy I achieved my goal of making it to my hometown Olympic Winter Games!

After an awesome season of getting multiple podiums, I was seen as a medal contender for the 2010 games. But, ever since my horribly timed first ever blown ACL, MCL, and tibial bone bruise one month prior to the biggest event of my LIFE, I have been living a different lifestyle than I expected just a month out from the games. Each of my days have been scheduled around 3 physio appointments, 2 gym sessions, icing, rehabbing, and rest when time permitted. I did go in for a scope to my meniscus to get the bucket-handle tear out of the way just 3 weeks before the big race.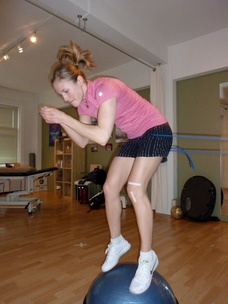 Actually- funny enough, on the date I was to carry the torch, I was on crutches from the scope. So, instead of skiing with it, I ended up snowmobiling with it, then hopping over to Crazy Canuck, Steve Podborski to light his torch. A great moment in Whistler! But, still I had to focus on getting healthy enough to walk, let alone race just 2.5 weeks later in front of a hometown crowd!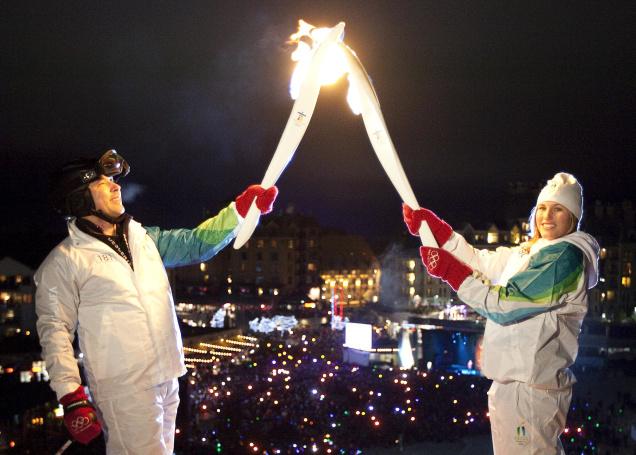 This feat did happen dispite many obstacles over the month. It really is amazing what your mind and body can do if passion is leading you. This was something that I had dreamed about since grade 5. It's not something that would slip away from me easily.... I have a feeling this lesson I learned will come up many more times in my life... Dream on!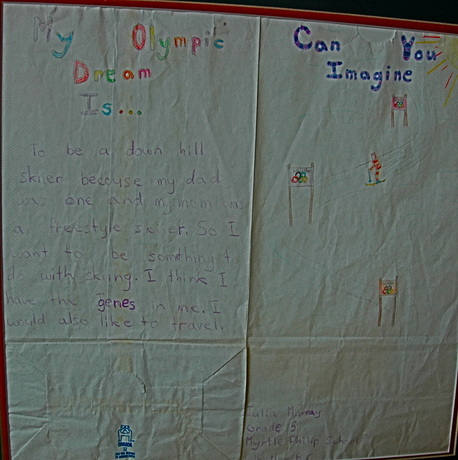 Opening Ceremonies! What an experience. So energizing walking into the massiveness of the crowd cheering for the home team. This was a moment that I'll remember forever (sounds cliché, I know, but it's very true).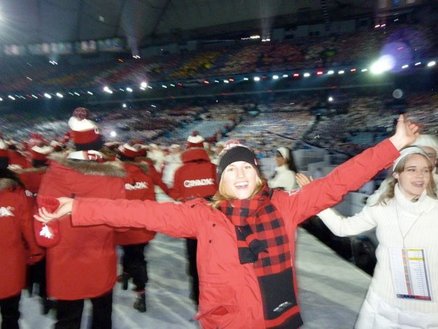 Onto the race !

The first training day was a day to feel out the amazing course that Jeff Ihaksi built. There were so many great jumps and flowing roller sections. Training day two was spent taking a more aggressive approach and getting back into the flow of skiing like myself. It felt so good to be on a ski cross course again! I did have a few flat landings that jarred my knee and sent quite a bit of pain through my body. But it only lasted a few minutes, then I could get back at it.

Every time I looked at the larger than life bleachers at the finish corral, I was inspired to keep positive and get to the start gate.

The boys raced the day before us. To see the crowd at the boys race sent chills through my body. Everyone loved the show and many said they thought of ski cross being the most exciting sport in the Olympics. It was good to know what to expect for our race day. The atmosphere was exhilarating.

It was sure hard to stay calm and collected at the Olympic Village with countless celebrations going on inside and outside of the village from both the athletes and the fans! Multiple visits with my surgeon were a requirement as well, making sure the knee was holding up. A couple of cortisone shots, and draining was needed, along with constant icing

One more training day to nail the technical start, then came the race day.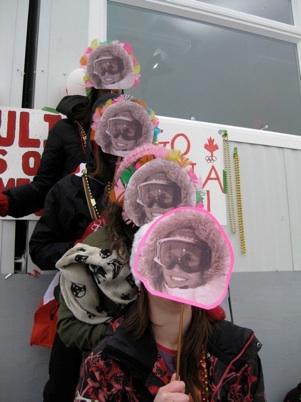 The first thing at Cypress Mountain I saw in the morning were amazing friends and family with signs cheering me on as I was getting hustled to the chair. It was an unexplainable, amazing feeling to see the support crew I had, no matter what happened!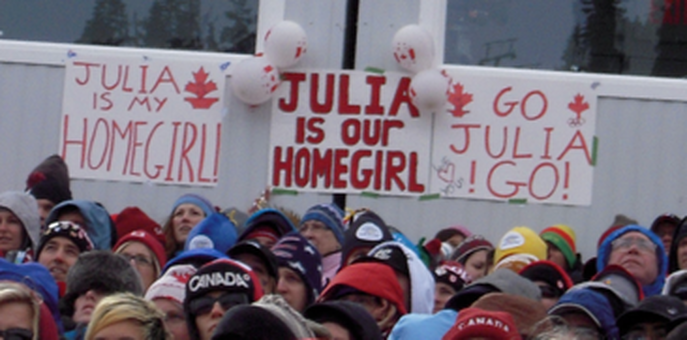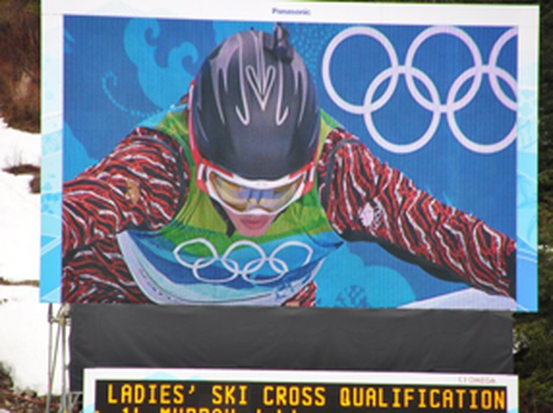 My qualifying run felt very smooth, but it wasn't very fast. I had been top 4 in my last 5 races, so 14th place was a bit of a disappointment for me. But, I knew the start gate was pretty fair, so lane choice wasn't what would determine the winners.

Standing at the start, of course, was drastically different in the Olympics than it had been in any other race. We could hear the crowd cheering for the Canadians all the way from the finish line, yet it was unusually quiet up in the start. It was eery. The adrenaline and energy pumping through my veins was difficult to retain.
Deep breaths and leg swings until they called my name. And, pain killers unfortunately...

My first heat was going well. I got out of the gate in second place and stayed there. I had a painful landing though. Off of a big jump in the middle of the course I got kicked back and landed with my butt on my bindings! This is exactly what I was happy to have avoided all of those training days. You see, in physio, I still wasn't able to bend my knee all the way, but this landing forced it to go there. Ouch! The adrenaline I had from the crowd and well, the fact that I was at the OLYMPICS kept me going and I finished the course using mostly my right leg, as my left one felt very noodley. No one passed me and I went on to the quarter finals.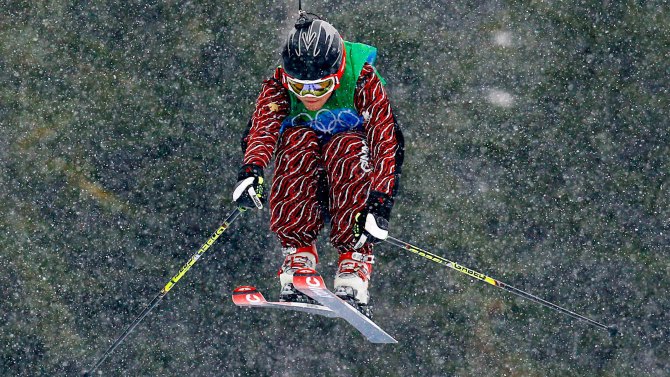 The second heat was a battle to say the least. I had a horrible start that put me in third. I had to make a pass somewhere. I caught up to the two ahead of me and waited for the right time to make my move. I decided to go for it before a big double into a step-down feature. I got back onto my heals again and flew off of the double but managed to land the step-down. Fanny Smith, a great Swiss skier beside me was battling to stay on her feet as well. At one point I looked beside me and her skis were level with my head. I thought she was going down. She snuck back in front of me. I then tried to absorb a double and lost all of my speed... I had no chance of moving on.
It was heartbreaking seeing the two girls in my heat go up the chair for the next round as I stayed in the finish corral. I was happy for them, and I had to be happy with 12th place in the Olympics... Which, in hindsight, I am happy about 12th. It's no podium, but all odds were against me to even stand in the start gate that day.
I am thankful for the support I had, and the grit I learned I was capable of.
And of course, Canada pulled through and my good friend and team mate
Ashleigh McIvor
won gold for all of us !
One week after the games, I went in for reconstruction surgery, then onto the road to recovery!